Welcome to UVSAAF
The Unofficial Virtual South African Air Force was established in November 2010, and since then, we grew stronger, and today we offer a complete Air Force experience. From training at Langebaan, to Test Pilot at Overberg AFB. Our raking system is on par with the air force, as well as other leading VA's. As the leading virtual SAAF, we strive to replicate the real SAAF in a virtual experience. Our Mission is to give each user an unique military experience, and make virtual flying adventurous. To join, simply scroll to the bottom of the page, and become part of our team!
Latest News
UVSAAF AAD 2016
Posted by Johan Jacobs on 08/16/2016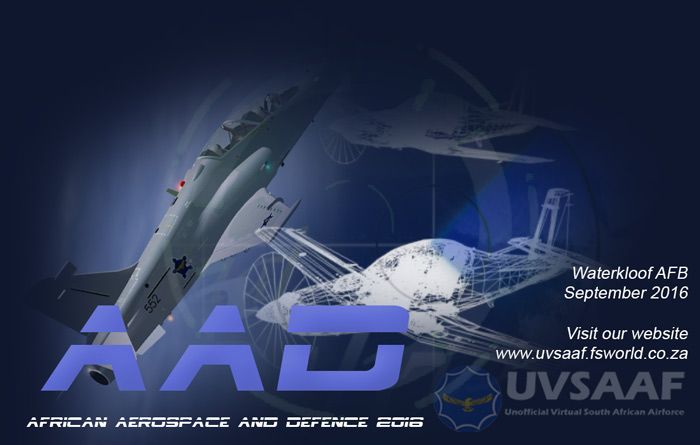 This year's AAD will be held at Waterkloof AFB. Pilots that wish to do displays must sign up here. Once you have signed up, Display aircraft will be assigned to you. You may request specific display aircraft from Air Command if you wish,provided that you are rated on the type.
---
Exersize Seagull
Posted by Johan Jacobs on 08/01/2016
Exersize Seagull will be held during this month of August, over Dassen Island. All pilots to report for duty here, by joining this event. Only pilots that have joined will recieve their orders.
Log in and join the exersize HERE
---